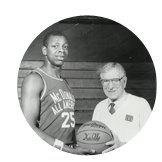 STEVE BUCKNALL PROFILE
Growing up in South London where he came through the Crystal Palace Basketball youth system, Steve left England as teenager for high school in Boston . Recognition as a McDonalds All-American followed in 1985 and he went on to play at the University of North Carolina under the legendary Dean E Smith.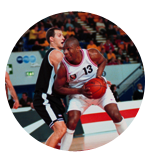 Steve holds the honour of being the first Englishman to play in the NBA, suiting up for the L.A. Lakers in 1989/90. A graduate and All-Atlantic Coast Conference player at the University of North Carolina , Steve has built up a great deal of experience on the courts of North America and Europe in the past decade.


The former England captain has 92 caps for his country and holds the all- time scoring title. He also gained a further 22 caps for Great Britain . Steve's experience and leadership qualities have been vital to many teams across Europe over his 16 years as a professional player.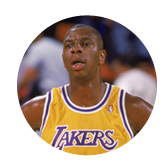 PLAYER PROFILE
Position: Guard
Height: 6'6"
Weight: 15st 5lb

PLAYER PROFILE: TEAMS
Leicester Riders (2005-2006)
Olympique Antibes, France (2004-05)
Iraklis Thessaloniki, Greece (2003-04)
Aris Thessaloniki, Greece (2002-03)
Birmingham Bullets (2002-transferred)
Aris Thessaloniki, Greece (2001-02)
London Towers (1999-2001)
Reggio Emilia, Italy (1998-99)
Iraklis Thessaloniki, Greece (1996-98)
London Towers (1995-96)
Thames Valley Tigers (1994-95)
Le Mans, France (1993-94)
Villeurbanne, France (1992-93)
Stuttgart, Germany (1991-92)
Sunderland (1990-91)
Los Angeles Lakers (1989-90)
Tulsa Fast Breakers, CBA, (Drafted only)
Crystal Palace (1983-84) Three games only
Crystal Palace Juniors
PLAYER PROFILE: HONOURS
Championship Winner - 1995-96 // Championship Runner-up - 1994-95, 1990-91 // Play-off Runner-up - 1995-96, 1990-91 // BBL Trophy Winner - 1999-2000, 1995-96, 1994-95 // Southern Conference Winner - 2000-01, 1999-2000 // National Cup Winner - 1995-96, 1990-91 // National Cup Runner-up - 1994-95 // England International (91 caps) Debut v Spain 1990 // League All-Star Team - 2000-01, 1999-2000, 1995-96, 1994-95, 1990-91 // All-Star Game - 1999-2000, 1994-95, 1990-91 // Great Britain 1988 & 1992 (22 caps) // MVP at UNC (1988-89)